Press Release
The Manzanar Project, Ansel Adams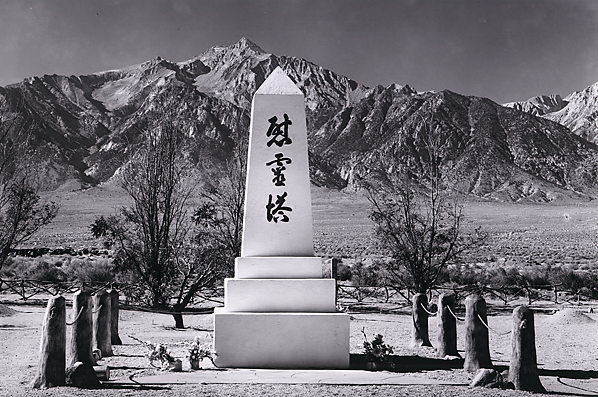 September 6 – October 27, 2012
SCOTT NICHOLS GALLERY is pleased to present The Manzanar Project ANSEL ADAMS.  The exhibition will be on view Wednesday, September 6 through Saturday, October 27, 2012.
The Manzanar Project ANSEL ADAMS will consist of a collection of fifty photographs taken by Ansel Adams during his visits to Manzanar War Relocation Center,, a camp located in Inyo County, California where Japanese American citizens and resident Japanese aliens were interned during World War II.  According to the Library of Congress, in 1942 over one hundred ten thousand people of Japanese ancestry, including Japanese immigrants, the American born, and the children of the American born, were singled out and removed from California, southern Arizona, western Washington and Oregon then sent to ten relocation camps.  In 1988, Congress issued an apology on behalf of the nation stating that the internments had been "motivated largely by racial prejudice, wartime hysteria, and a failure of political leadership".
Adams' photographs were first exhibited in 1944 at the Museum of Modern art in New York in an exhibition titled MANZANAR: Photographs by Ansel Adams of Loyal Japanese-American Relocation Center.  In the original press release the curator, Nancy Newhall, expressed the significance of photography in visually communicating problems of prejudice in the postwar world.  She wrote of Adams' involvement at Manzanar, "A native Californian, Adams undertook this project of his own volition and at his own expense. Believing that in the dangerous struggle for race equality only an impartial and independent statement can be convincing, he has refused to be sponsored or affiliated with any governmental or political groups."
In 1944 U.S. Camera published the photographs and accompanying text in the book Born Free and Equal.   As explained in his autobiography, Born Free and Equal, Adams' first photographic essay, was "met with distressing resistance and rejected by many as disloyal" despite its clear message.  Adams' images of Manzanar remain an important marker of a period within our national history and an example of the powerful historical functions of photography itself.
This rare, modern set of photographs was first exhibited by the Fresno Metropolitan Art Museum in 1985.  This is the first exhibition to be held within a private gallery setting.