Press Release
Dorothea Lange, A Photographer's Journey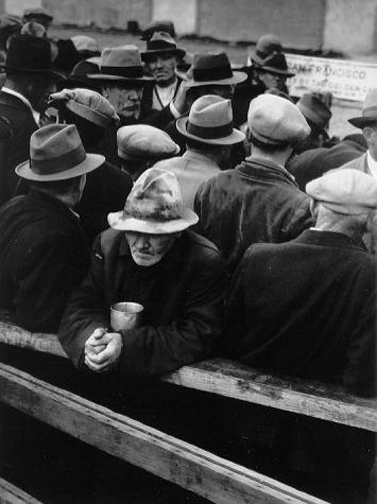 May 3 – June 30
 Scott Nichols Gallery is pleased to present Dorothea Lange, A Photographer's Journey. The exhibition will run from May 3rd through June 30th. Concurrently the galley is celebrating the Golden Gate Bridge 75th Anniversary with an exhibition of photographs by Carleton Watkins, Isaiah Taber, Peter Stackpole, Horace Bristol, Pirkle Jones, Rolfe Horn and others.
Dorothea Lange was a successful portrait photographer in San Francisco when the stock market crashed in 1929. As her business diminished with the Depression, she began photographing the world around her, including labor strikes and protests. Then married to renowned California landscape painter Maynard Dixon, Lange became increasingly politicized.
She found work with a series of relief organizations, most significantly the Resettlement Agency from 1933-37, later called the Farm Security Administration. On one of her early government jobs she met the economist Paul Taylor, whom she would later marry and with whom she would collaborate on several projects, including the book An American Exodus. she started work for the Farm Security Administration, and took many of the photographs which remain the most memorable images of the New Deal era. Her 1936 photograph Migrant Mother has become an icon of the Depression era, embodying the human toll exacted during those bleak years.
Although Dorothea Lange is best known for the iconic Depression-era photographs she made under the auspices of the Farm Security Administration, this picture is one of her first attempts at street photography, taken well before she began working for the government. It records a hungry person at the White Angel Jungle, a soup kitchen near Lange's San Francisco studio. Lois Jordan, the "white angel," was a working-class widow of limited resources who relied only on unsolicited donations to run the breadline. Jordan's compassionate and practical response to human suffering likely contributed to Lange's decision to leave her portrait studio practice and begin using her camera as a tool for social change.