Press Release
GEORGE TICE
 The Photographer's Photographer
September  5 – November 16, 2013
 Reception in the gallery for the artist, Thursday, September 26th, 5:30pm – 7:30pm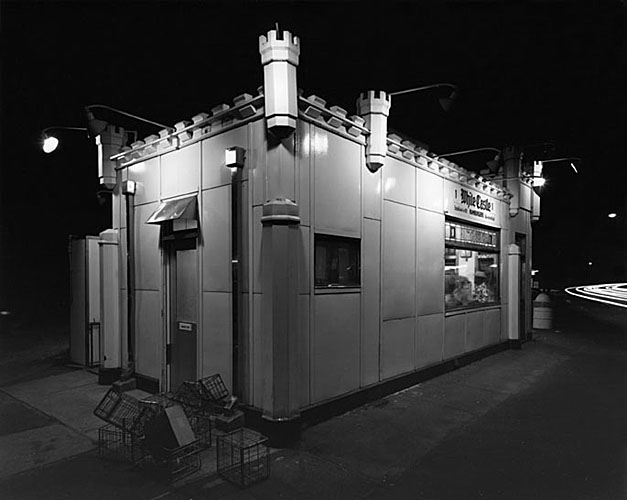 As George Tice's primary west coast gallery, Scott Nichols Gallery is excited to announce a 60-year retrospective, George Tice, The Photographer's Photographer. The exhibition is a celebration of his many achievements and the multifaceted contributions he has made to fine art photography as an artist, teacher and technical master in addition to his creative contributions to the tradition of documenting the American rural and suburban landscape.
The exhibit opens Thursday, September 5 with a reception for the photographer on Thursday, September 26 from 5:30pm-7:30pm at the gallery. The artist will be in attendance. Furthermore, on Friday September 27, Tice will be giving a lecture at UC Berkeley Graduate School of Journalism in conjunction with Fotovision's first annual photography lecture. There will be a reception at 6:30pm and the artist will be giving his talk at 7pm.
George Tice is one of the most influential and significant photographers of his generation and beyond, and one of just a few such photographers still living. A self-taught artist, George Tice entered the photography world at age 16 when he dropped out of high school and began working as a darkroom assistant in a portrait studio in Newark. In 1959, Edward Steichen, who was working at the time as the director of photography at the Museum of Modern Art, discovered an image that Tice had made during his U.S. Navy service. Steichen purchased the image of an explosion aboard the USS Wasp for the museum collection.
Lauded for his skillful printing, George Tice began making prints for successful and important names such as Edward Weston, Frederick H. Evans and Edward Steichen himself. Meanwhile, he established himself as a portrait photographer and assisted Lee Witkin as he was founding the Witkin Gallery in 1969. His early success allowed him to move beyond commercial portraiture into more personal work, and he began to make the type of photographs for which he has become recognized and revered. His beautifully executed black and white images of American rural and suburban life have earned him national and international acclaim. Despite his lack of classical training in photography, his images possess sophistication in their aesthetic and technical quality. In addition, they convey a certain curiosity and willingness to experiment with subject matter and technique that can only be attributed to his natural talent and passion for the medium.
After teaching himself to use a large-format view camera (a major feat in and of itself), he made one of his most famous bodies of work, photographing Amish communities in Lancaster, Pennsylvania. In 1970, this series was turned into a book entitled Fields of Peace: A Pennsylvania German Album, accompanied by text written by Millen Brand. Well-balanced between portraits and landscapes, his images as an outsider among insulated communities, are remarkably sympathetic and unobtrusive. Tice's other significant projects include Patterson, and Urban Landscapes, poignant glimpses into urban and suburban life in his native New Jersey. The series' spoke to the simultaneous growth and decay of rural America.
Exhibited internationally, George Tice's work is represented in over one hundred museum collections, including MoMA, the Metropolitan Museum of Art, the Art Institute of Chicago, the J. Paul Getty Museum and the Newark Museum. Tice has received fellowships from the Guggenheim Foundation, the National Endowment for the Arts, the National Media Museum (UK), the New Jersey State Council on the Arts, as well as commissions from The Field Museum of Natural History, the Houston Museum of Fine Arts, and the Museum of Modern Art.