Press Release
The Same Dark Place
Photographs by John Goodman
March 1st – April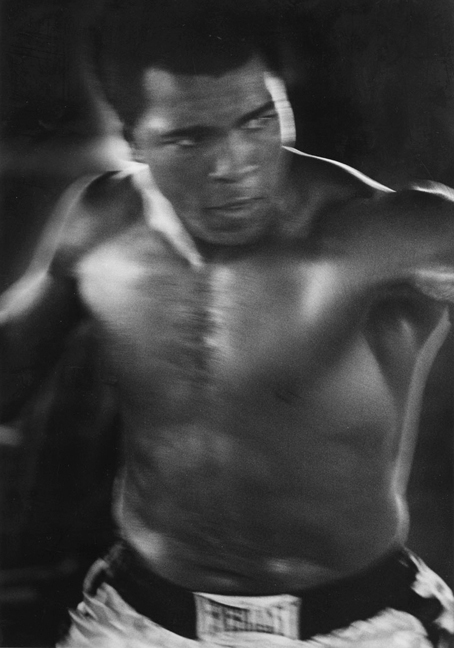 Photographs by John Goodman
March 1st – April 28th, 2012
Scott Nichols Gallery is pleased to present The Same Dark Place, Photographs by John Goodman. The exhibition will run from March 1st through April 28th. A reception for the artist will be held Thursday, March 1st from 5:30 to 7:30pm. This presentation marks John Goodman's first west coast solo exhibition.
A student of the influential abstract expressionist Minor White, John Goodman credits White with teaching him the difference between seeing and looking. It was serendipitous that Goodman looked across 42nd Street and Broadway in 1993 and saw the sign in a grungy second floor window: Time Square Gym. The area was designated for redevelopment and in its final eighteen months Goodman documented Jimmy Glenn's legendary 42nd Street gym, paying homage to a sport where "men imagine great moves in glorious fights against phenomenal opponents."
To speak of boxing for many admirers of the sport is to speak of romance and dark glamour. It's a blue-collar sport, and Goodman captures the hard work and perspiration intimately, in a way that the public doesn't get to view. Joyce Carol Oates offers, "Goodman's camera, however, is not an instrument of detachment, analysis, or judgment, but an iris of an eye that is our own, dissolving ostensible barriers between objects and subject. His intention is to make us feel, and not merely see, the world of the Times Square Gym."
In 2000, Goodman travelled to Havana, Cuba as part of a cultural exchange program, teaching a workshop and exploring Havana's wonders. In his own statement, "being in Havana is very much like living in a ruin with its history crumbling before your eyes, as its spirited peoples revel in life's obstacles." The Times Square Gym and Havana images exist in the same dark place of mystery, ceremony and fleeting figures.
John Goodman's work is represented in the permanent collections of the Art Institute of Chicago, Fogg Art Museum at Harvard University, Metropolitan Museum of Art, New York, Museum of Fine Arts, Boston, and San Francisco Museum of Modern Art. His work has appeared in New York Times Magazine, Vanity Fair, Esquire, and Rolling Stone. Goodman studied with the photographer Minor White in the 1970's and is now on the faculty of the Art Institute of Boston.