Bill Owens
The Legacy of Suburbia: Photographs 1964-2022
Edited by Bill Owens, Kate Jordahl, and Geir Jordahl
Essays by Geir & Kate Jordahl, Kim Komenich,
William Morgan, Bill Owens, and Shelley Rice.
Printed by Bookmobile, Minneapolis, Minnesota
Published by True North Editions, 2022, First Edition
Publisher Description: A limited-edition publication, Bill Owens: The Legacy of Suburbia Photographs 1964-2022 is now available with a special signed print, 4th of July Parade, included. This book features images from Bill Owens' entire career from his work in Jamaica with the Peace Corps to his current Digital Renaissance. The book is available in an edition of 100.
332 pages, 263 photographs, hardcover, signed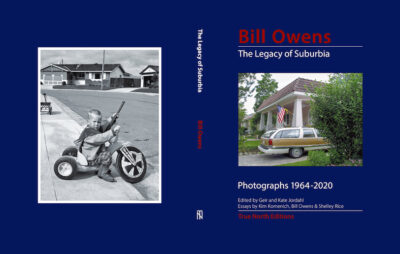 In this special edition set are three signed Bill Owen's books along with a special edition signed print, all in a hard slipcase. The set is part of an edition of 40.
The photograph (printed in the early '80s) is on 8″ x 9″ Agfa fiber glossy paper and is 5 1/2″ x 6 7/8″.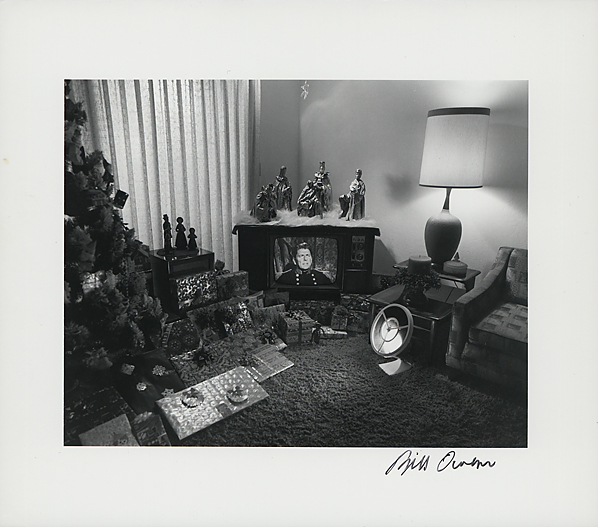 Books included are:
Suburbia, 1973
Owens spent two years photographing in three suburban communities in Northern California. The photographs show the lives of people in pursuit of The American Dream: home ownership, family life, material possessions, and a sense of self-satisfaction. Ironically, the composite picture of the lifestyle shown is one that is not particularly appealing.
Our Kind of People: American Groups and Rituals, 1975
"For the past six years my daily routine as a newspaper photographer has brought me into contact with every type of civic, social and fraternal organization in the community. These groups hold meetings at the country club, recreation center or in private homes during which they sponsor luncheons with guest speakers, discuss civic projects and conduct routine business meetings. My presence at these meetings had a purpose: I was taking photographs for the newspaper.
When I started working on this book, I would take the required news photo and then continue photographing the group's activities for the next two or three hours. I also spent evenings and weekends attending meetings, gatherings and musters; over three hundred groups were photographed, some of them two or three times before I got the photo I wanted. After fifteen months I stopped taking pictures and began assembling  and editing the captions.
I had enjoyed  the experience, but I could never sit through all those meetings again."
-Bill Owens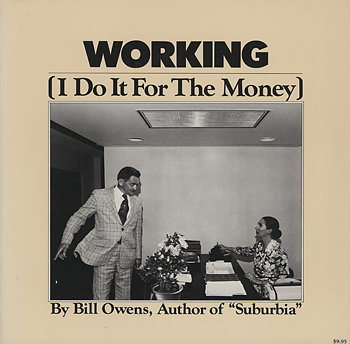 Working, 1977
Bill Owen's photographs of everyday people working with humorous, heartbreaking, and insightful quotes about the experience of working.