Filed Under: Press
Posted on June 6, 2022 | No Comments

Scott Nichols Gallery at AIPAD 2022
Center415 NYC
Booth highlights include a museum curator-led tour in partnership with AIPAD sponsor SIDLEY. The tour covered rare works including a "Cancelled" Moonrise over Hernandez, New Mexico by Ansel Adams and Shells 6S (1927) by Edward Weston.

ANSEL ADAMS
"Cancelled" Moonrise, Hernandez, New Mexico
1941, printed in the late 1960s
Rare gelatin silver print with "cancelled" perforation
We also enjoyed a visit and book signing by George Tice in support of his latest release, Lifework — his catalog raisoné. Lifework is available at Scott Nichols Gallery.

George Tice signs a copy of "Lifework" while Nicolò Sertorio looks on.
Lifework is George Tice's latest book release.
Following the event, the gallery (among others) received a wonderful write-up from photographer and fine art writer Dave Rudin of Figures of Grace. His article touches on many notable and unusual works seen at this year's show. Worth the read.
Click the Artsy logo below to see our full booth
and more photos from the exhibition:

Additional press:
Collector Daily
LensCulture
The Eye of Photography
Untitled Magazine

ANSEL ADAMS
Moonrise from Glacier Point, Yosemite National Park, California, "Full Negative"
1948, printed 1970s. Rare signed gelatin silver print
For more information or to schedule a consultation, please contact Scott Nichols Gallery.
Posted on May 26, 2022 | No Comments
Saturday, May 28, 2–5pm
Scott Nichols Gallery is pleased to announce the portfolio release for
Clark James Mishler
The Amish
Lancaster County, Pennsylvania

The Amish, Lancaster County, Pennsylvania, 2022
14 3/4″ x 11 1/2″ Signed and dated portfolio
Edition: 15 + 3AP
This limited edition portfolio contains fourteen monochrome archival pigment prints.
Each print is signed, dated, and numbered.
Prints come in a foil-stamped acid-free clamshell box.
Horse Drawn Harvester, 1996, printed 2022
4″ x 6″ Archival pigment print

Early Morning Horse Team, 1996, printed 2022
4″ x 6″ Archival pigment print

Vegetable Stand, 1996, printed 2022
4″ x 6″ Archival pigment print

Young Boy with Broom, 1996, printed 2022
4″ x 6″ Archival pigment print

Running School Girls, 1996, printed 2022
4″ x 6″ Archival pigment print

Milking Barn, 1996, printed 2022
4″ x 6″ Archival pigment print

Farm, Lancaster County, 1996, printed 2022
3″ x 7 1/2″ Archival pigment print
View Portfolio
View Press Release
Our upcoming exhibition: George Tice, A Photographer's Photographer. The show is a sixty year retrospective and celebration of his 75th birthday. George will be at the Scott Nichols Gallery on the 26th of September for the opening reception of his show and will be speaking at the U.C. Berkeley Graduate School of Journalism the following day for the 1st annual Fotovision lecture. We've been anticipating this show for awhile and hope you can make it.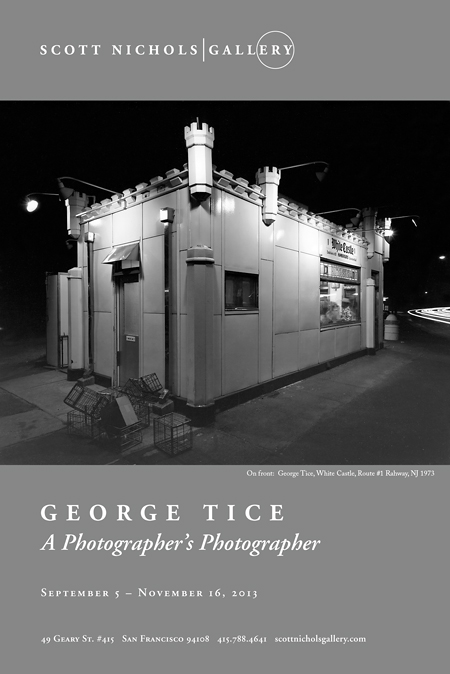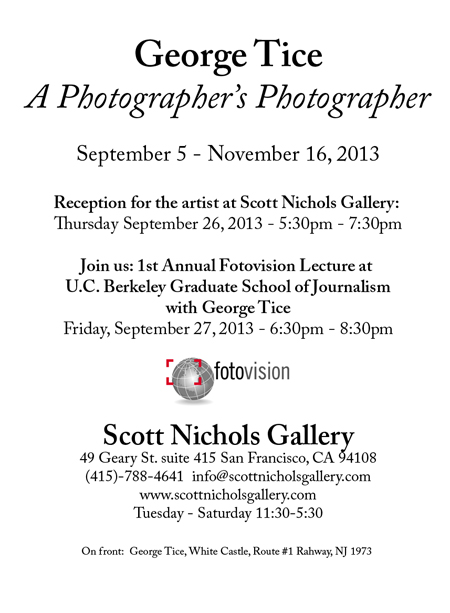 August, 8 2012: THE SUMMER SHOW was reviewed by Murray Paskin in the San Francisco Examiner. Every July, the Scott Nichols Gallery of photography selects approximately 80 photos from its permanent collection of more than 200 images to highlight in a seasonal show. Called "The Summer Show," the current exhibition is rich from both artistic and historical perspectives, and its lineup of major artists — Ansel Adams, Paul Strand, Edward Weston, Walker Evans and many more — represents almost a classical presentation of contemporary American photography… Read the entire review, Who's who of photographers at Scott Nichols, HERE.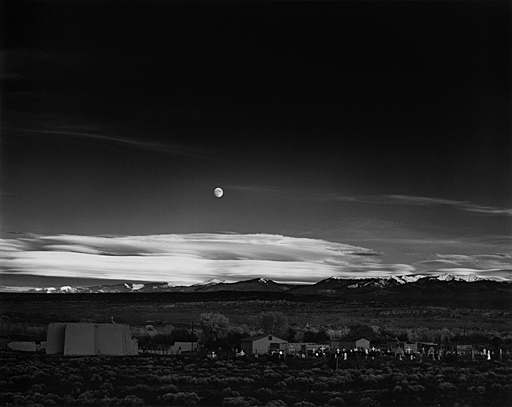 ANSEL ADAMS, Moonrise over Hernandez, New Mexico, Gelatin silver print, 1941
Filed under Press
March 8, 2012: JOHN GOODMAN was featured in Design Arts Daily. Photographer John Goodman is enjoying the glow of limelight, with two shows currently up and a third scheduled to open in April. I caught up with him en route to and from the west coast last week for this Q&A…  View the entire interview by Peggy Roalf  HERE.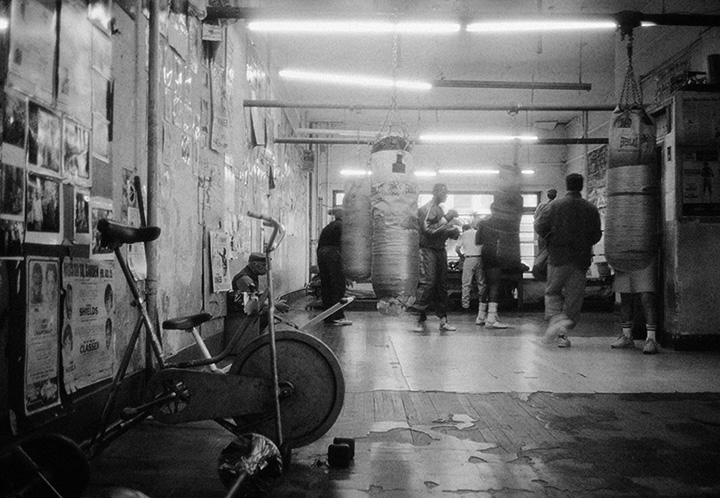 JOHN GOODMAN, Times Square Gym, Interior, from The Times Square Gym series, Selenium toned gelatin silver print, 1993
Posted on September 16, 2011 | 4,473 Comments